Hey friends! I'm back today. Finally!
I thought I would share some ideas with you this week about Valentines Day. As a family, we love Valentines Day. I think it's a fun time to show each other extra love, and then also a way to spread love to others as well.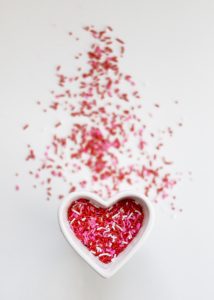 Last year we came across the virtual Valentines cards for St. Judes. We let the girls get on the computer and send some valentines to St. Judes. They got to pick out cards (the patients there design them) and type their names and a message on them.

Another way we are wanting to spread some love this year is Cards for Hospitalized Kids. I read about them on another bloggers post, but the idea is so great! We are going to work on sending cards to them year round. They have great ideas on how to address the cards, and also messages to write in them. If your looking for something to do on a rainy day, this would be perfect! We may make some cards, but most will probably be from a box of assorted cards and then the kids can write notes in them.
One of our favorite traditions, is the girls Valentines doors. We started doing this a few years ago when they were still sharing a bedroom, but it's something they mention all the time. They don't know when we will hang them up (typically Feb 1, or the week of Valentines day) but they love it still. We use scrapbook paper, but any would do!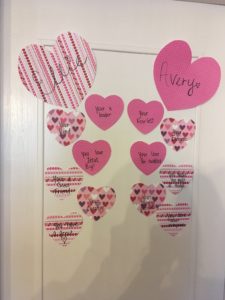 Do you have any special ways your family spreads love this time of the year? I'd love to hear if so!